Deze Workshop wordt gehouden van 24 juni tot en met 28 juni. Het volledige programma hieronder!
De details...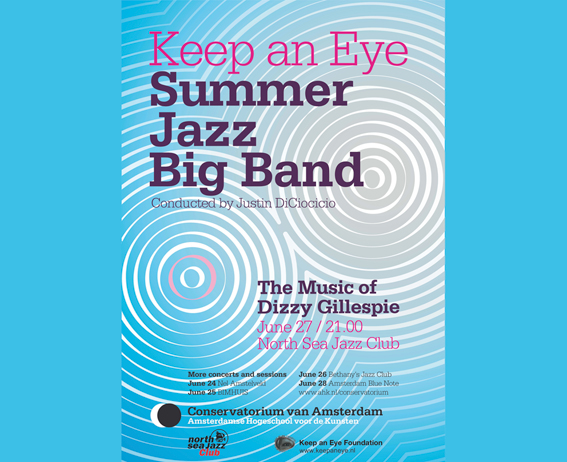 Keep an Eye Foundation Summer Jazz Big Band and Summer Jazz Choir
June 27, 21.00hr, North Sea Jazz Club
Pazzanistraat 1, Amsterdam (Westergasfabriek)
Keep an Eye Summer Jazz Session
June 24, 21.00hr, @Café Nel
Amstelveld 12, Amsterdam
www.nelamstelveld.nl
Keep an Eye Summer Jazz Session
June 25, 22.00hr, Bimhuis
Feat. John Riley, Jay Anderson, Dick Oatts, Jasper Blom
Piet Heinkade 3, Amsterdam
www.bimhuis.nl
Keep an Eye Summer Jazz Session
June 26, 21.00hr, Bethany's Jazz Club
Barndesteeg 6, Amsterdam
www.bethanysjazzclub.nl
Summer Jazz Final Presentations Vocalists
June 28, 16.00hr, @Amsterdam Blue Note
Summer Jazz Final Presentations Instrumentalists
June 28, 19.00hr, Amsterdam Blue Note
Over deze agenda:
Kijk voor eventuele wijzigingen en aanvullingen toch even op de website van het Conservatorium.
Aanraders buiten de Keep an Eye Summer Jazz Workshop om:
Het Graduation Jazz Festival in Bimhuis op 22 juni om 20.00 uur
Junior Summer Jazz Workshop op het Conservatorium op 29 en 30 juni
Meer Keep an Eye Jazz hier!
Het Conservatorium over 2012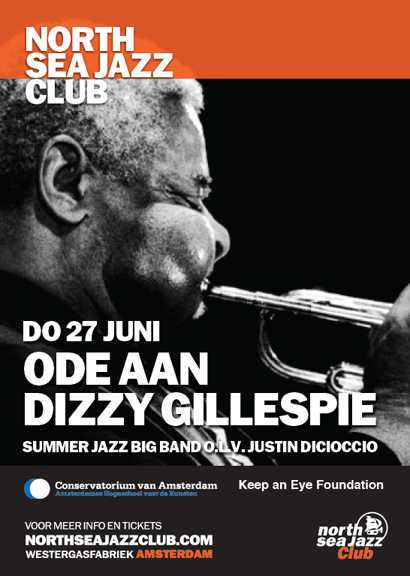 Are you a jazz professional or student? serious about improving your skills?
Take this opportunity for networking and developing your skills by following an advanced jazz course in one of Europe's most prominent jazz scenes. Come and play in our beautiful building, with students from around the world, under the guidance of the faculty of the Manhattan School of Music New York and the Conservatorium van Amsterdam.
A week full of lessons, workshops, masterclasses, lectures and concerts at Europe's jargest jazz department. Every day from 10.00 a.m. Unique, different and special!
Participants 2011-2012, students from:
Manhattan School of Music, USA
Moscow State Tchaikovsky Conservatory, RUS
SUNY Purchase college, USA
Hochschule für Musik & Theater Hamburg, GER
Conservatorio Santa Cecilia, Rome, IT
Temple University Philadelphia, USA
Royal College of Music Stockholm, SW
New England Conservatory Boston, USA
NTNU Trondheim, NOR
Oulu Conservatoire, FIN
Conservatorio F. Venezze Rovigo, IT
Hochschule für Musik & Theater Leipzig, GER
Michigan State University, USA
California State University Northridge, USA
Prins Claus Conservatorium, NL
Birmingham Conservatoire, UK
Belfast Area High School, UK
University of North Texas, Denton, USA
Hochschule fur Musik Weber, Dresden, GER
Royal College of Music, London, ENG
Facultad de Bellas Artes, Argentinie
Yrkesakademin Musik, FIN
Queensland Conservatory of Music, AUS
Conservatorio N. Paganini, I
University of Texas, El Paso, USA
Universidade Federal de Parana, BR
Columbia University, New York, USA
and of course Conservatorium van Amsterdam, NL